Tub-to-Shower Conversions for Oakville, Toronto & Kitchener
Our process gives you a brand new shower without the hassle of a full renovation
Acrylic showers are hygienic and easy to clean
A great option for those with limited mobility or accessibility needs
Backed by a lifetime warranty
How we transform your bath tub into a shower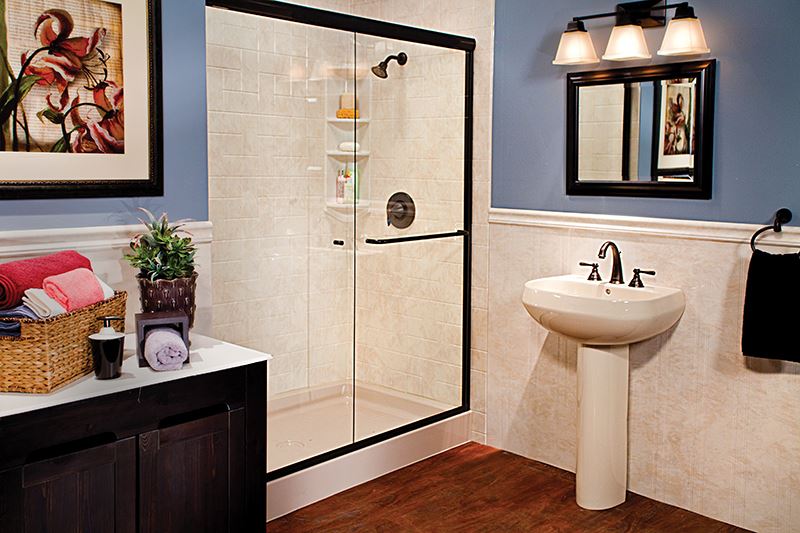 Transforming your bath tub into a shower sounds like a messy job.
In reality, our Bath Planet process can completely change the look, complexion and functionality of an unused bath in as little as one day:
We first learn what your bathroom needs are
Then, your existing tub surround is removed from the bathroom
Finally, we install a trendy, durable and extra-large shower surround of your choice
Easy to maintain and easy to clean
We use high-quality acrylic when performing our patented single day tub-to-shower conversions all over Toronto, Oakville and Kitchener.
Plus, your new shower will keep its beauty, colour and strength for a lifetime:
Acrylic showers can be cleaned quickly without using harsh, abrasive chemicals
Non-porous materials prevent mold and mildew from growing in your new shower
Acrylic is UV resistant, meaning its colour won't fade over time or with daily use
Great for any accessibility issue
Older residents looking to maintain their bathing independence often contact us for a tub-to-shower conversion.
We can take an old, rickety bathtub and convert it to a large, comfortable shower that helps with:
Creating a therapeutic spa steam shower experience
Rods and other accessories can assist with balance, mobility and stability
We can work with medical professionals to build a shower to best meet your needs
Protected by a lifetime warranty
All aspects of our tub-to-shower conversions – from the installation process to the final product – are backed by a lifetime warranty.
No terms. No conditions. No fine print.
Homes all over Oakville, Toronto and Kitchener have transformed an unused bath tub into a warm and inviting shower.
Why don't you do the same for your home?
Contact us to find your fit
At Bath Planet, we're committed to giving you a tub-to-shower conversion that's fast, professional and gives you the bathroom experience you want.
It all starts with a talk.
Contact us today to schedule a FREE in-home consultation.
One of our design experts will come to you – no matter where you are  – to personally discuss your tub-to-shower conversion needs.