Replacement Bathtubs for Oakville, Toronto & Kitchener
Bath Planet replacement bathtubs are long-lasting and durable
Easy to install with our one-day installation process
Stylish, low maintenance and very easy to clean
Backed by a lifetime warranty
Brand new replacement bathtubs that are built to last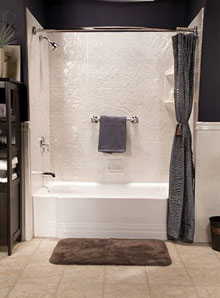 Completely replacing your bathtub should be a one-time job. Once it's done, it shouldn't have to be redone. Ever.
Full replacement bathtubs from Bath Planet are made from heavy, high-quality acrylic.
If you take a relaxing bath every day, or only when you really need it, your replacement bath tub will:
Resist unsightly and unhygienic mold and mildew growth
Keep its colour for years to come
Prevent annoying chipping or cracking from taking place
Can be installed in just a single day
Homeowners looking to replace their bathtubs don't have to go through an inconvenient and messy renovation.
The Bath Planet process is designed to give you a replacement bath tub with minimal disruption:
Detailed bathroom contractors take precise measurements of your bath tub area
Experienced and skilled craftspeople build your replacement bath tub to be a perfect fit
Your new bath tub is designed to seamlessly slide over your existing tub
Looks good and is easy to keep it that way
Your conventional bathtub or walk-in tub should be warm and inviting before your bath. And it should be easy to clean after it.
A replacement bathtub from Bath Planet delivers the best of both worlds when it comes to style and maintenance:
High-gloss acrylic that's available in a wide range of colours and styles
Scrubs clean quickly without needing abrasive or harsh chemicals
No grout lines for water to get trapped in
Built – and backed – to last forever
Your whole new replacement bathtub is designed and made to last a lifetime.
We back our bathtub replacements & bath liners with a lifetime warranty with no conditions, restrictions or fine print.
Homes and families all over Oakville, Toronto and Kitchener enjoy the peace of mind which comes with installing a replacement bathtub, and you should too.
Contact us to find your fit
We're committed to giving you a total replacement bathtub that maximizes the enjoyment and value you receive from your bathroom with minimal disruption to your day-to-day life.
It all starts with a talk.
Contact us today to schedule a FREE in-home consultation.
One of our design experts will come to you – no matter where you are  – to personally discuss your bathroom design needs.