Bath Wall Surrounds for Oakville, Toronto & Kitchener
Bath Planet bath wall surrounds are custom crafted to fit your bathroom
Made from heavy, high-quality acrylic that's non-porous
Available in a variety of designers colours and styles
Backed by a lifetime warranty
Custom made for your bath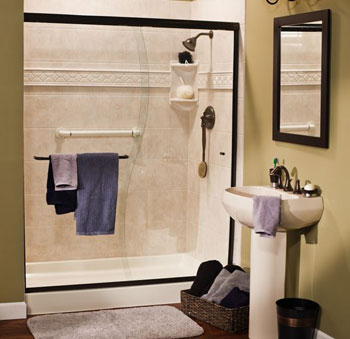 Each bathroom in Oakville, Toronto and Kitchener is different in terms of size, shape, layout and contours.
Bath wall surrounds are not a "one-size-fits-all" option.
Rather, our bath wall surrounds are tailor-made for your bathroom:
Our bathroom contractors capture precise measurements of your bathroom
Skilled craftspeople cut the bath wall surround for a perfect fit
The Bath Planet process ensures you get your new bathtub surround in as little as a day
Long-lasting and low maintenance
When homeowners replace their bath wall surrounds, they only have to do it once.
That's because we use thick and heavy high-quality acrylic which is designed to:
Prevent mold and mildew growth
Resist scratches, chips and cracks
Be incredibly easy to clean away soap scum and dirt with a non-abrasive cleaner
Your style, your colour, your choice
The acrylic bath wall surround market has grown, so have the selections available to homeowners.
Colour choices can range from solid colours, marbleized colours and metallic finishes, as well as:
Simulated tile designs available in a variety of stone finishes
Finishes details like wainscoting or trim knits
Keeping its "new" appearance for years to come without fading or losing its colour
Built – and backed – to last forever
Your new bath wall surround is designed and made to last a lifetime.
We back our bathtub surrounds with a lifetime warranty with no conditions, restrictions or fine print.
Homes and families all over Oakville, Toronto and Kitchener enjoy the peace of mind which comes with installing a bath wall surround, and you should too.
Contact us to find your fit
At Bath Planet, we're committed to giving you a custom-fitted bathtub surround that maximizes the enjoyment and value you receive from your bathroom with minimal disruption to your day-to-day life.
It all starts with a talk.
Contact us today to schedule a FREE in-home consultation.
One of our design experts will come to you – no matter where you are  – to personally discuss your bathroom design needs.