Walk-in Tubs for Oakville, Toronto & Kitchener
Our process can install your walk-in-tub in as little as one day
Made from durable and easy-to-clean acrylic
Special relaxation and hydrotherapy options available
Sit-in tubs are ideal for seniors or anyone with mobility issues
Backed by a lifetime warranty
One day is usually all it takes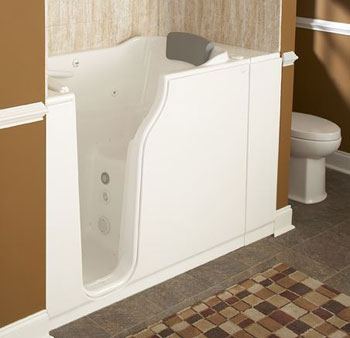 For most homes in Toronto, Oakville and Kitchener, our process can give you the relaxing, luxurious walk-in tub you want in as little as one day.
The first and most important step in our approach is to listen to your needs.
From there, we:
Take precise measurements of your bathtub area
Manufacture a custom walk-in bathtub that's made to measure
Install, secure it in place and ensure that no mess gets left behind
Acrylic material makes your sit-in tub easy to clean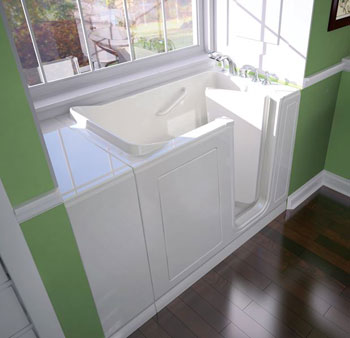 Our walk-in tubs are made from high-gloss acrylic which is designed to keep its shine and lustre for a lifetime.
Plus, acrylic allows you to choose from a variety of colours and styles available with fast cleaning:
Acrylic is a non-porous material that keeps away mold and mildew growth
No harsh or abrasive chemicals are required for cleaning or washing
Resistant to chipping, staining, cracking or fading
Rejuvenate with special features
Each walk-in tub we've installed has a variety of special features available to help you bathe in comfort and safety.
You can turn your bathroom into your personal spa getaway with enhancements like:
High-powered jets to help soothe sore muscles and loosen tight joints
Safety grab bars for easy accessibility as you enter and exit your walk-in tub
Hand-held shower wand for extra comfort and convenience while bathing
Comfortable, safe and therapeutic sit-in tubs
Walk-in tubs have numerous safety benefits which can make bathing much easier for people with limited mobility:
Elderly or seniors who can't step over a conventional bathtub
Wheelchair users who need help getting and and out
Disabled people who require a comfortable and safe place to sit
Walk-in/sit-in tubs are perfect for anyone looking to maintain bathing independence in the comfort and convenience of their own home.
Protected by a lifetime warranty
All aspects of our walk-in tubs – from the installation process to the final product – are backed by a lifetime warranty.
No terms. No conditions. No fine print.
Homes all over Oakville, Toronto and Kitchener have discovered the physical and mental benefits of using a walk-in tub.
Why don't you do the same for your home?
Contact us to find your fit
At Bath Planet, we're committed to giving you a walk-in bathtub with fast installation and professional service.
It all starts with a talk.
Contact us today to schedule a FREE in-home consultation.
One of our design experts will come to you – no matter where you are – to personally discuss your walk-in tub needs.