Shower Wall Surrounds for Oakville, Toronto & Kitchener
Crafted to fit perfectly over your existing shower enclosure
Shower stalls are manufactured from thick, cell-cast double acrylic
Hygienic and very easy to clean
Backed by a lifetime warranty
Precisely measured shower stalls for a precision fit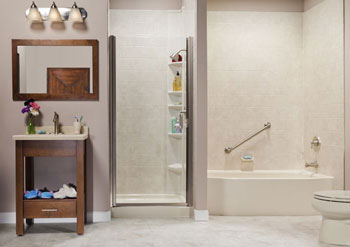 Every shower in Toronto, Oakville and Kitchener is unique when it comes to size, shape, layout, corners and curves.
Shower wall surrounds are made-to-measure for your bathroom.
Our process ensures you don't get a generic "one-size-fits-all" option.
Our contractors measure and take detailed photographs of your shower space
Skilled craftspeople and a sophisticated computer program create your shower wall surround
Your perfectly measured shower wall surround can be installed in just a day
Built from tough – yet beautiful – acrylic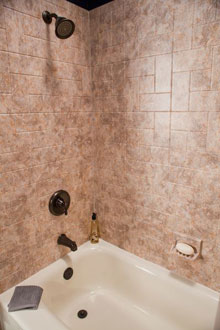 Shower wall surrounds are made of high-gloss acrylic from Bath Planet.
That's because replacing a shower wall surround should only be done once.
And our durable and colourful acrylic material ensures you'll never have to worry once it's installed:
UV resistant acrylic ensures that it keeps it's "brand new" look and shine forever
Finishing details like trim kits or wainscoting won't compromise its integrity or strength
Triple-lock seal technique makes it impossible for water to get under the wall surround
Keeps clean with minimal effort
Homeowners choose to replace their shower wall surrounds with Bath Planet products because they're incredibly easy to maintain.
Our acrylic material and installation process ensures that:
Mold and mildew do not grow on the grout
Cleaning your shower stall is easy with no harsh or abrasive chemicals needed
It resists staining, fading, chipping, peeling and cracking
Built – and backed – to last forever
Your new shower wall surround is designed and made to last a lifetime.
We back our bathtub liners with a lifetime warranty with no conditions, restrictions or fine print.
Homes and families all over Oakville, Toronto and Kitchener enjoy the peace of mind which comes with a new shower wall surround, and you should too.
Contact us to find your fit
At Bath Planet, we're committed to giving you a perfectly measured shower wall surround that maximizes the enjoyment and value you receive from your bathroom with minimal disruption to your day-to-day life.
It all starts with a talk.
Contact us today to schedule a FREE in-home consultation.
One of our design experts will come to you – no matter where you are – to personally discuss your bathroom design needs.