Refresh Your Bathroom with a Quick, Cost-Effective and Easy Remodel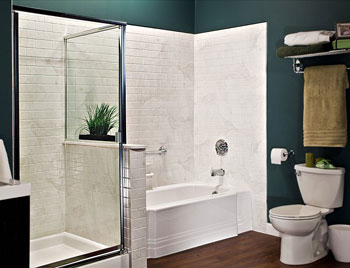 Do you want a bathroom that better reflects your luxurious tastes? Are you tired of scrubbing mold and mildew off your old bath tub? Do you need an affordable, cost-effective upgrade to your aged, worn out tub? We offer three distinct options for your bath remodel and a huge selection of customizable elements so your new bath is like nothing else.
The quality replacement bath tubs you find at Bath Planet will help wash your worries away. We can turn your bathroom into a luxurious retreat with only a single day of renovation inside your home – and without the luxury costs to your wallet. If your discoloured, chipped and moldy tub is ruining your relaxation, come see us soon!
Bath tub liners from Bath Planet are likely the most durable you'll find anywhere. These ¼" thick acrylic bathtub liners are molded to fit perfectly over your mangled old tub. This lowers your overall costs and eliminates the need for expensive tear out and demolition work that can drag on for weeks.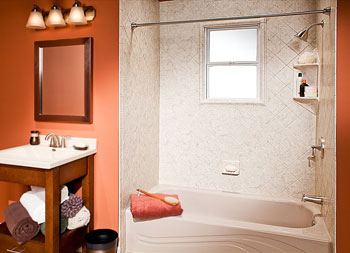 Some bathroom contractors will tell you a one-size-fits-all bathroom surround is perfectly fine. We disagree. Generic bathroom surrounds are made of cheap, brittle materials that won't stand up to daily use for more than a couple years. Then you'll see signs of cracking and wear. Our bath wall surrounds are thick and carry a lifetime warranty. Learn more about them here.
We Stand Behind Our Products so You Can Comfortably Sit Inside Them
Every bath remodel product we carry has a lifetime warranty. We provide this because we know they are:
Long lasting – with scratch, stain and chip resistance
Easy to install – it just takes us a day and we're confident it will last a lifetime
Low maintenance – these materials naturally resist mold and mildew, and have no grout lines for mould to hide in
Stylish – high gloss acrylic and a load of patterns and colours will make your bathroom a haven
Contact us today to talk about your hopes and wants for your new bathroom and schedule a free, in-home consultation to find out the different, cost-effective ways we can make your vision spring to life.
Request more information on the bath products available to you