Complete Your Bathroom with Perfect Details. Custom Shower Doors, Rods & More.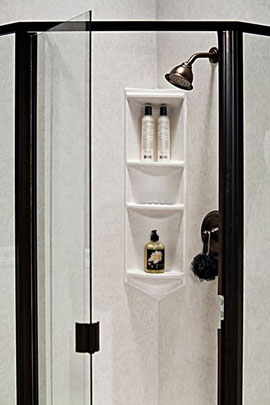 It's the small details that elevate the average bathroom to something more memorable.
A smooth, sliding custom shower door that keeps the steam inside your shower; a light door that blends with the flat glass finish around your shower; the custom shower door you envision when you think of a luxurious spa can be part of your bathroom design.
All you have to do is visit Bath Planet today.
Pick Your Finish
Our custom shower doors and shower rods come in enough finishes to fit with any style.
Satin chrome
Polished gold
Oil-rubbed bronze
Brushed nickel
Polished chrome
Minimalist white
A Quick Install Means We Won't be in Your Way for Long
Because we build and assemble as much of your new bathroom as possible in our shop, 9 out of 10 installs we do can be completed in a single day.
Every replacement bath or shower we offer carries a lifetime warranty. We provide this because we know they are:
Long lasting – with scratch, chip and stain resistance
Simple to install – it only takes a day and we're confident it will last a lifetime
Low maintenance – these materials naturally resist mold and mildew, and have no grout lines for mould to hide in
Stylish – high gloss acrylic and a load of patterns and colours
Tranquility at Home
When you choose Bath Planet, you choose tranquility, warmth and comfort. It's not every day you remodel a room (or rooms) in your home, and we know you want to feel good about your choice.
Request more information on the custom shower door and bath products available to you