Step-Through Inserts for Oakville, Toronto & Kitchener
Creates a more comfortable bathing and showering experience
Incredibly easy to clean
Quick installation without the hassle of a full bathroom renovation
Backed by a lifetime warranty
Easy access to comfort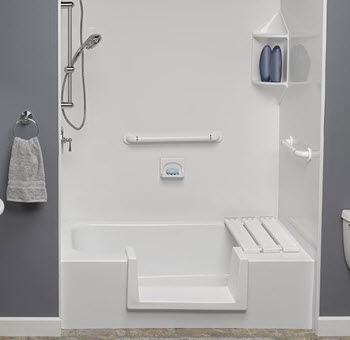 Many homes in Toronto, Oakville and Kitchener have made the transition from bathtub to walk-in shower with step-through inserts.
You'll enjoy easy accessibility and obstacle-free access to your new shower, as well as:
Large opening that's approximately 24" wide and 8" deep
Low floor threshold makes it easy and comfortable to step in and out
Reducing the chances of slips, trips and falls
Cleaning and maintenance is a breeze
The last thing anyone wants to do is spend excessive team cleaning their step-through bathtub insert.
We use a non-porous material without grout lines that makes it easy to clean, and also:
Naturally resists mold and mildew growth
Cleans quickly without relying on harsh chemicals or abrasive cleaners
High-gloss finish keeps it looking "like new" for years to come
Easy installation
The Bath Planet process is designed to give you the new step-through insert you want as quickly and as affordably as possible.
Instead of ripping out your existing tub or crowding your house with workers, we:
Cut a section of your existing tub and custom-fit the resulting opening
Can work with virtually any bathtub, including fibreglass, steel or even cast iron
Seal and smooth any exposed corners for a beautiful, streamlined look
Built – and backed – to last forever
Your new step-through insert is designed and made to last a lifetime.
We back our inserts with a lifetime warranty. No conditions. No restrictions. No fine print.
Homes and families all over Oakville, Toronto and Kitchener enjoy the peace of mind which comes with a new step-through insert, and you should too.
Contact us to find your fit
At Bath Planet, we're committed to giving you a perfectly made step-though insert that maximizes the enjoyment and value you receive from your bathroom with minimal disruption to your day-to-day life.
It all starts with a talk.
Contact us today to schedule a FREE in-home consultation.
One of our design experts will come to you – no matter where you are – to personally discuss your bathroom design needs.