A Brilliant Shower Liner to Transform Your Bathroom in a Single Day
Your new shower liner from Bath Planet is likely the most durable you'll find anywhere. These ¼" thick acrylic shower liners are engineered to fit seamlessly over your old rusty shower, eliminating any disruptive and expensive tear out or demolition work.
Don't You Hate Scrubbing Your Shower? We Know!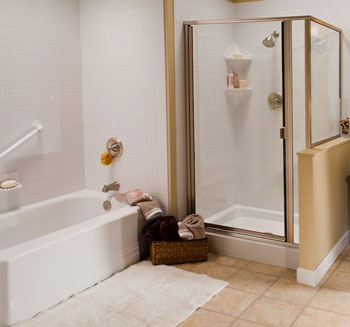 We take precise measurements and pictures of your existing shower and enter everything into our sophisticated matching software.
The software identifies an existing mold that matches our notes exactly, and a sheet of acrylic shower liner material is thermoformed to those precise dimensions.
Customers end up with the bathroom they envision every time, installed in a single day by a single technician. Occasionally a larger install might take more than one technician to complete.
But even that beats a team of builders tearing up your home for days.
Like You Needed More Reason to Invest in a New Shower Liner
Our clients tell us they choose Bath Planet for the same 5 reasons over and over:
The lifetime warranty
The easy, fast installation
The range of colour choices let them find precisely what they wanted
The material durability (the thickest acrylic possible for precision molding)
The low maintenance, non-pourous surface of our bathutub liners
Mold and Mildew are so 2001…
Our acrylic is completely non-pourous. There's nowhere for moisture to hide, and nowhere for mold or mildew to form. We use a process that completely locks moisture out so your new shower liner maintains the first-day high-gloss for a lifetime. You'll never have to pick another shower liner again.
Request more information on the shower and bath products available to you