Maintain Your Bathing Independence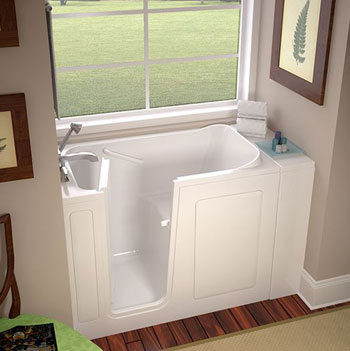 Adapting your home to meet the needs of your changing lifestyle will make you feel safer and more confident in your ability to handle your day to day chores independently. If there's one place in the home that needs to accommodate challenges associated with limited mobility, it's the bathroom.
Fortunately, you don't have to plan and save and hum and haw over how to make your bathroom a more accessible room.
You just have to take a look at our accessibility products to find the ones that makes sense for your home.
A Door that Leads to a Better Quality of Life
We carry a complete line of high quality, affordable accessibility products that can be tailored to fit in any bathroom. Whether you need…
A bathtub to shower conversion

Take your old, unused bathtub and convert it to a large, comfortable shower. Your new shower is more like a spa steam shower than your old, bathtub/shower combo. Sit down and let the steam comfort your muscles and avoid slips with a stable, anchored brushed copper shower rod

A walk-in tub

Deep, door-entry bathtubs with comfortable upright seating (some models even incorporate massaging hydrotherapy water jets). If you can recline in a comfortable chair, you can relax in these beautiful bathtubs

Step-through inserts

An affordable alternative that converts your existing tub to a shower and makes it easily accessible in just a few days. All we have to do is remove a section of your existing tub, lowering the access point for your tub basin and giving you an easy point of entry. Whether your tub is fibreglass, steel of cast iron, we have a step-through insert that works.
Today is Your Independence Day
When you're ready to take back your independence, give us a call. We offer a lifetime warranty on all our accessibility systems and a free in-home consultation.
Request more information on the accessibility products available to you